Coating ranges
Monforts is still today the only company that can supply a complete coating range from a single source. And that means clear benefits for the customer, too: All the components of the coating range are perfectly matched to one another. With a universal control technology and uniform visualisation system. The existing Montex®Coat coating unit has been further optimised: The user interface is now equipped with the unique Monforts visualisation system. The magnetic doctor blade has greater power reserves. The bordering system has been optimised for greater user-friendliness, and the doctor blade adjustment range is even more precise. A carbon fibre-reinforced plastic (CRP) coating drum is also available as an option – for the highest coating precision even with larger working widths. with a more scratch-resistant surface and maximum rigidity, particularly for larger working widths. A remote control for the doctor blade (option) simplifies exact adjustment of the blade for the operator.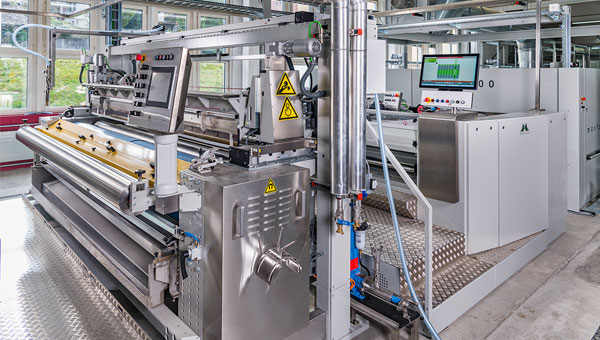 Blade coating, rotary screen printing and minimum application via magnetic doctor blade. The universal coating unit with the highest precision.
The key to more flexibility in textile finishing. The modular system with quick-change facility. For even greater availability.