Monforts will be displaying its Montex®Coat coating unit at ITMA 2023 in Milan at stand B106 in Hall 18 from June 8-14.
Over 30 of these machines have now been sold worldwide, with the majority integrated into some of the thousands of full Monforts Montex stentering lines already in full service.
The Montex®Coat serves a very diverse number of markets and enables full PVC coatings, pigment dyeing or minimal application surface and low penetration treatments as well as solvent coatings. Knife coating, roller coating or screen printing can also all be carried out with this system. As such, it provides the ultimate in flexibility and the ability to switch quickly from one fabric run to the next, without compromising on the economical use of energy or raw materials.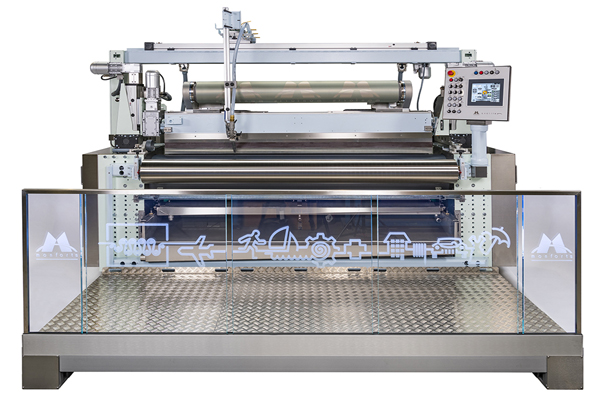 Robustness
The Montex stenter meanwhile remains unmatched in terms of its robustness and long service life, as well as resource-efficient productivity – overall energy savings of 40% can now be achieved compared to conventional stenters with its heat recovery and energy optimisation options.
"Exhaust air treatment on stenter frames has posed particular challenges over the years, since the air can contain significant amounts of oil, fibre and even wax particles that may see emissions limits being reached in the processing of certain fabrics," explains Monforts Managing Director Gunnar Meyer. "In addressing this issue, we are incorporating the MonforClean module directly into the stenter frame. With this addition, the waste heat from the drying process is used to pre-heat the drying air, resulting in a radical reduction in the conventional heat supply required compared to gas and thermal oil heating."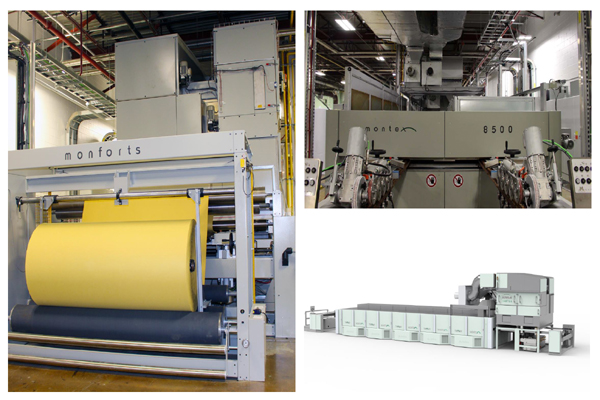 Nonwovens
Albarrie – a major player in North America's industrial nonwovens industry – is now benefiting from one of the first Monforts Montex stenter installations equipped with the full range of MonforClean heat recovery and exhaust air purification technologies.
With the new three-chamber Montex stenter at its plant in Barrie, Ontario, the Canadian company is treating specialised needlepunched nonwovens up to 4mm thick. These have applications in a wide range of filter media and performance fabrics.
"The new Montex is enabling Albarrie to heat set and dry its materials to produce denser, higher quality fabrics which can also be finished and delivered to customers more rapidly," says Meyer. "We can also offer a series of retrofits for Montex machines in operation, including the Monforts universal Energy Tower– a flexible, free-standing air/air heat exchanger for recovering the heat from the exhaust air flow of thermal processes."
The Monforts Eco Booster, which completely can be integrated into the chamber design of the Montex stenter, is another retrofitting option. As a single state-of-the-art heat recovery system with automatic cleaning, it can be added to existing ranges. For ranges of up to eight chambers only one module is necessary to achieve significant energy savings.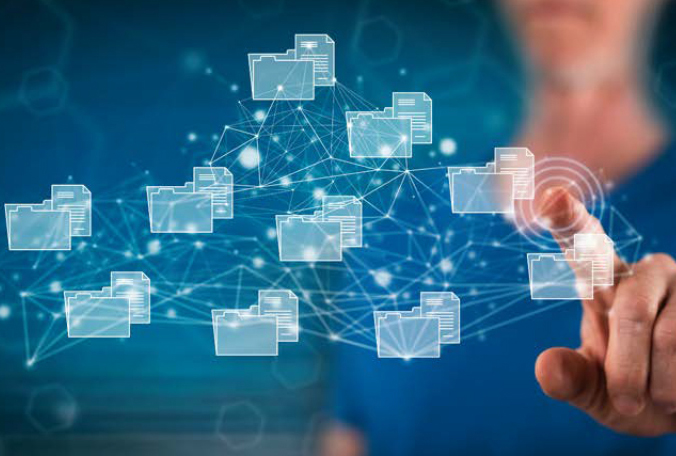 Intuitive
With the highly intuitive Qualitex 800 visualization software, all article-specific settings can be stored and the formulations for thousands of treatment processes called up again at any time. Individual operators can also personalise their dashboards with the most important machine functions and process parameters.
The Qualitex 800 system is available for the automatic and continuous operation of the company's Montex stenters, as well as its Thermex continuous dyeing ranges, Monfortex shrinking systems and Montex®Coat coating units.
Be ready for the future
For years Monforts offers several dual heating options for their machines to enable customers to be flexible and independent from one single energy source. For future alternatives Monforts is collaborating with other industry partners on the possibility of using hydrogen as a heating alternative.
With the Q-soft database, a central process control software, production planning and documentation can be easily carried via the central interface where all setpoints and actual values are filed with read and write access for setpoints. Several machines can be connected at the same time and no additional hardware is necessary. Three levels of network interfacing are possible – Interface to the network, output to a PC with graphic presentation (Monforlogic) and interfacing with a process control system to which can include machines from other manufacturers. As a supplement, the Monforlogic can be used for display, analysis and administration of machine data via a single interface with management of machine parameters amd recipes.
"At ITMA 2023 in Milan, we'll be happy to explain the range of modifications and modernisations that can be made to your line, as well as all of the benefits of our latest technologies," says Monforts Marketing Manager Nicole Croonenbroek. "Compared to a new machine, upgrades are a low-cost investment that deliver clearly defined benefits. Do come and meet the team in Milan."