Dickson-Constant has recently opened its second brand new plant in northern France in response to growing demand for its range of well-known technical fabrics.
New technology installed at the plant includes a highly-customised Monforts Montex 8500 stenter, with the specific lay-out of the line the result of a long collaboration between the German machine builder and the French sun protection and outdoor upholstery fabrics specialist.
Know-how
The oldest weaving operation in France, with roots dating back to 1836, Dickson-Constant specialises in woven acrylic fabrics and has been part of Glen Raven since 1998. Its Dickson-branded solar protection and flooring materials and Sunbrella home upholstery and market-leading marine industry fabrics are renowned for their quality and durability.
Representing a €40 million investment, the new Dickson-Constant plant, located in Hordain, Hauts-de-France, builds on many of the proprietary practices and the processing know-how established over many decades at the company's existing plant less than an hour's drive away in Wasquehal, France.
Located along the A2 motorway that links Paris and Brussels, Hordain has instant connections to Belgium, Luxembourg, the Netherlands, the UK and Germany, ensuring very quick deliveries throughout Europe.
Various locations were considered for the plant prior to Hordain being chosen, and its selection has provided a significant boost to the region's textile industry. In the absence of suitable technical textile training in the immediate vicinity of Hauts-de-France, Dickson-Constant has further created a training centre to fully train up its 75 new employees at the plant, in addition to other new textile technologists entering the industry.
With many new weaving machines, the new Hordain plant increases the company's overall manufacturing capacity by 50% while providing the flexibility to accommodate more medium-sized orders and meet requests from certain customers for full exclusivity in respect of specific performance fabric ranges.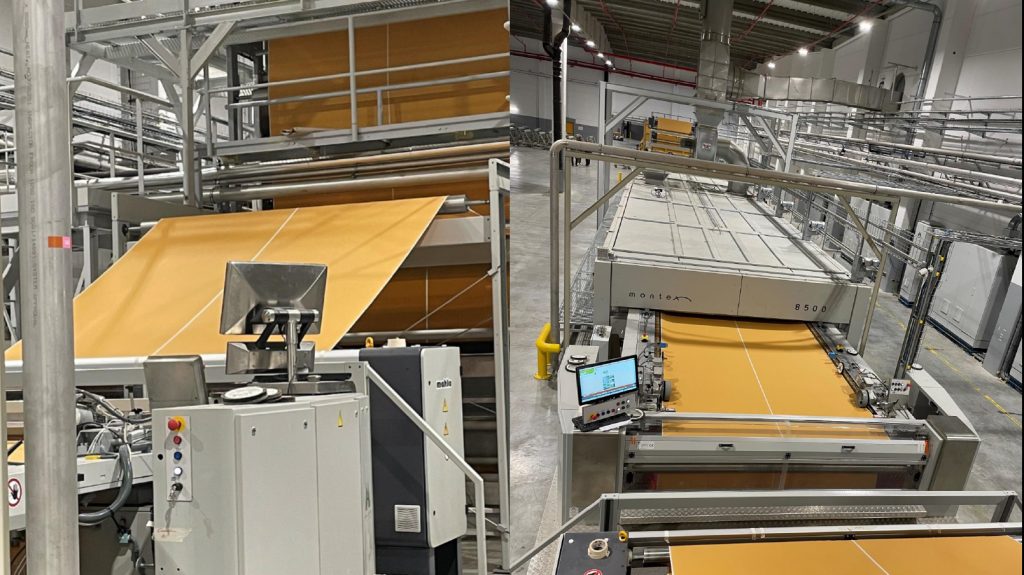 Non-stop
The seven-chamber Montex stenter for drying, heat-setting and polymerizing applied resins has a maximum working width of 2.8 metres. It is installed in line with the washing compartments and is equipped with special entrance and exit fabric accumulators to enable non-stop processing during batch changes, in addition to an integrated vertical infrared dryer and exhaust air cleaning. Two Mahlo weft straighteners also ensure maximum regularity of fabric batches at strategic points in the line.
"The line is very specific to our requirements, building on the experience of running our highly-efficient warping and weaving operations and the Montex stenter for many years in Wasquehal," explained Dickson-Constant process manager Louis Masquelier. "The new plant in Hordain has a similar lay-out, but is adapted to new market requirements, since the Wasquehal plant is not set up to enable single runs of under 500 metres of fabric.
"The service from Monforts engineers and its local partner Monel Industrie Services – with many technical discussions over the years – has been invaluable, and it has been a pleasure to work with them on this latest project, which involved many exploratory talks prior to the design of the line being decided on, and then throughout installation and commissioning."
The stenters at both plants, he added, have the potential to cause a major bottleneck in operations, should anything go wrong.
"We have also made considerable upgrades to the existing Montex stenter in Wasquehal, including upgrading the electrical components and inverters, as well as ensuring we have all spare parts in-house to ensure all our operations continue to run smoothly. Monforts and Monel have always provided us with prompt service when needed."
Coatings
Dickson-Constant develops all of its specialised coatings and finishes in-house, and a good example of its prowess in this field is in the latest development for advanced dirt-resistant woven flooring fabrics – the result of over three years of research.
CleanGuard technology adds an invisible varnished overlay to the woven wear surface, delaying its soiling while enhancing its stain resistance and ease of maintenance. The layer of varnish is integrated directly into the finished product, providing additional protection.
The woven flooring system is made up of five distinct layers, each of which provides unique technical features such as a minimum sound absorption of 18 dB, a dimensional stability of less than 0.1% and an almost zero risk of fraying thanks to its monofilament construction, that also ensures a clean cut for quick and efficient fitting and a neat finish.
"Sustainability is now paramount to our company and in addition to working towards ISO 50001 standards at both plants, our R&D team is currently focused on developing an oil repellency coating formulation that does not rely on flurocarbons, yet is as effective," Masquelier said. "We have had a record year in 2022 but the energy situation in Europe is now causing some turbulence. The latest advanced technology, including the Montex stenter, have equipped us to maximise our resource savings and face the current market challenges with confidence. In addition, we have also invested in a water treatment plant allowing the plant to reuse 50% of its exhaust water.