Stefan Flöth, Monforts Managing Director, is interviewed in the latest issue of TEXTalks, celebrating 70 years of friendship between Germany and Pakistan.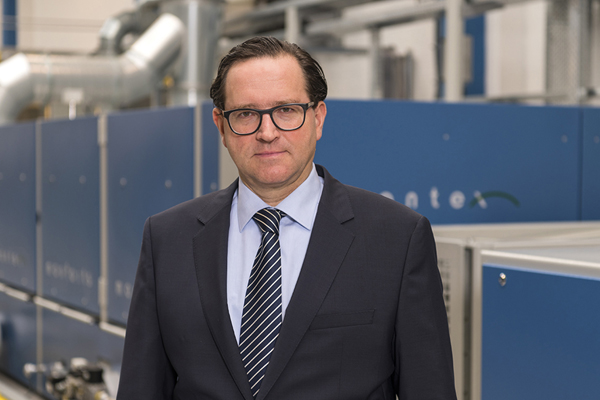 TEXTalks: Germany and Pakistan are celebrating 70 years of Friendship, what would you say?
Stefan Flöth: We are very pleased to have played a small part in cementing the positive relationship between our two countries and contributing to the extraordinary momentum that has seen Pakistan establish itself as a textile manufacturing powerhouse in the past few decades.
How long is Monforts' collaboration with Pakistan's textile market?
In 2022, we will celebrate the 40th anniversary of our cooperation with Al Ameen, our valued partner in Pakistan. Constant R&D and machine innovations – both in terms of productivity and energy savings – and this close cooperation, have allowed Monforts to build an 80% market share for stenters in Pakistan and to retain it for a number of decades. Our Area Sales Manager Manfred Havenith and Head of Denim Hans Wroblowski have also made many close friendships with customers across the country.
Karachi, as Pakistan's largest city, has most notably become an epicentre for the sustainable production of denim in recent years and this is a sector in which Monforts technology is particularly dominant.
Key Monforts customers in this area include Artistic Milliners, Indigo Textile, Soorty, Siddiq Sons, Artistic Denim, Artistic Fabrics, Naveena, Kassim, and Rajby Industries, all of whom have been constantly expanding their capacities and are huge employers and the backbone to the economy of Pakistan.
The situation is similar in the region around Pakistan's second largest city, Lahore, where major Monforts customers include Azgard9, Diamond Fabrics, Crescent Bahuman, Naveena, Nishat Group, Saphire Group, Style Textile  and US Group.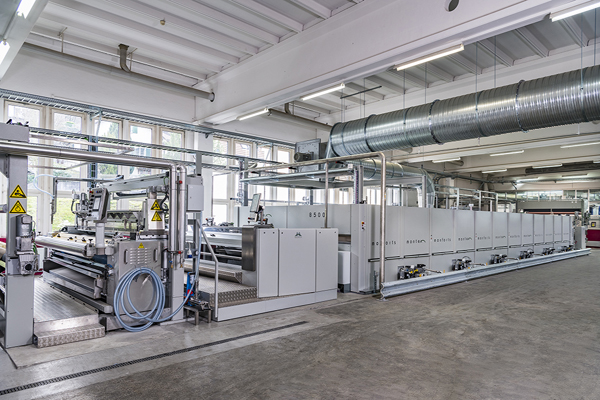 How is Monforts technology contributing to the advancement of the textile industry in Pakistan?
Monforts Montex stenters – for processes such as drying, stretching, heatsetting and coating – are the industry standard for the fabric finishing industry, providing a number of advantages in terms of production throughput and especially in energy efficiency and savings. With the latest Montex stenters, overall energy savings of up to 40% can now be achieved compared to a conventional stenter with no heat recovery or energy optimisation measures.
Exhaust air treatment on stenter frames has posed particular challenges over the years, since the air can contain significant amounts of oil, fibre and even wax particles that may see emissions limits being reached in the processing of certain fabrics. In addressing this issue, we are now incorporating the MonforClean module directly into the stenter frame. The waste heat from the drying process is used to pre-heat the drying air, resulting in a radical reduction in the conventional heat supply required compared to gas and thermal oil heating.
As an alternative to conventional padding – where fabrics are immersed in a bath of the required finishing chemicals – the Monforts Eco Applicator can significantly further reduce the energy and water required for achieving perfect finishes via a precise direct application system.
Finishes can be applied on just one side of the fabric, or both, and even separately on each side, and sealed in place via different heating zones in the stenter. This allows endless differentiation possibilities.
Monforts also partners with technical textiles manufacturers for the value added finishing of many products using the latest Montex®Coat multi-head coating system.
How do you seek to increase the outreach of Monforts products to Pakistan's industry?
The Monforts commitment to customer service is based on four principles – helpful, accurate, fast and reliable. The company has established a reputation for quickly and efficiently dispatching spares and components, and online support is always available when needed.
Monforts machines are known for their robustness and long service life, but major advances in digital technology mean that there are now significant gains to be made in the retrofitting of the latest automatic drives and control systems to machines, going far beyond the basic replacement of spare parts.
Any special comments/messages to the readers on the 70th Friendship Anniversary?
Here's hoping the next 70 years are as fruitful for both of our countries as a result of this ongoing cooperative spirit!